Gas prices have been heading lower over the last several months and are down 19% since the June high. This has been great news for drivers and especially those families taking road trips during the summer. However, it appears we may start paying more at the pump as prices begin to bottom out.
Price and Momentum
Below is a daily chart for the spot price of Unleaded Gasoline ($RB_F) since mid-2012. You'll notice that the price of gas has been trading in a wide range over the last several years, and is currently sitting at the bottom end of that range. In 2013 we saw gas prices put in a low near the 2012 low, around $2.50. This happens to be where gasoline is now and we may see this previous floor become support.
For those familiar with my writing, you know I'm always looking for a divergence in momentum. I often look for when the Relative Strength Index (RSI), as shown in the top panel of the chart below, begins to rise while price makes lower lows. This bullish divergence often leads to a trend change, and in this case could be hinting at higher prices for unleaded gasoline.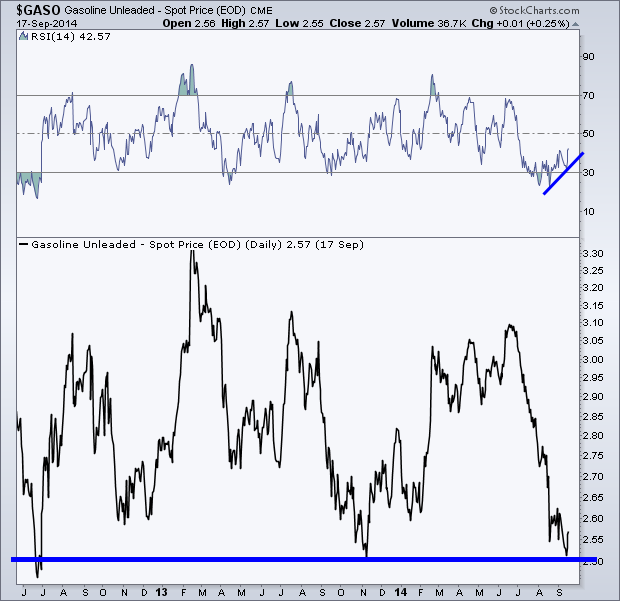 Seasonality
While price may be searching for support at prior lows, next I want to look at the seasonal trend for gasoline. Below is a 5-year seasonal study created by the Signal Financial Group. Over the length of the current bull market the decline in gasoline prices has bottomed in late September. It appears seasonality supports the notion that price may be creating a low point at or near its current level.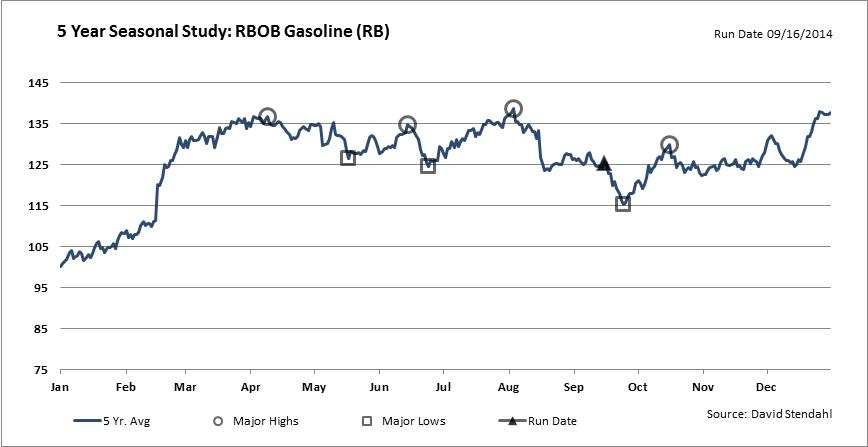 Commitment of Traders
Next lets take a look at how futures and option traders are positioned in the Unleaded Gasoline market, courtesy of a chart from Tom McClellan. Tom wrote in his recent newsletter, "Commercial traders of RBOB gasoline futures have been continuously net short since 2005,  So the game consists of evaluating the current position relative to the recent values.  On that accord, what we are seeing is a bottom-worthy condition that should lead to rising gasoline prices in the weeks ahead."
As the chart below shows, Commercial Traders, often considered the 'smart money' are holding a historically low-level of net-short positions. Past instances of them not being heavily net-short gasoline futures has led to an increase in price over the following weeks and sometimes months.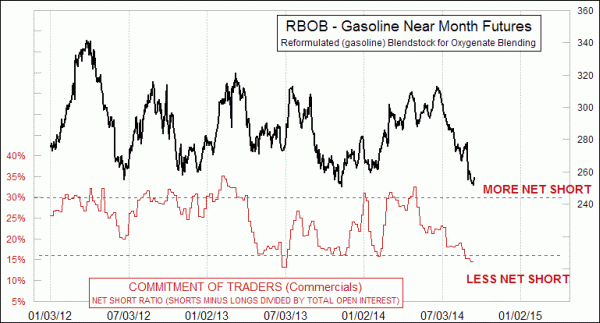 Sentiment
Finally, I want to look at the sentiment data for gasoline. This chart comes from SentimenTrader.com, who produces some of the best sentiment charts and data sets available. Optimism towards the gasoline market has never been this low, going back to 2006. When the sentiment indicator in the bottom panel of the chart goes below 30 we've typically seen a low put in for gas prices, the current reading is an all-time low of 22! Sentiment levels often are just noise, but it's when the hit an extreme that they became more important. With Optimism at a fresh low, I would say this is a pretty extreme level.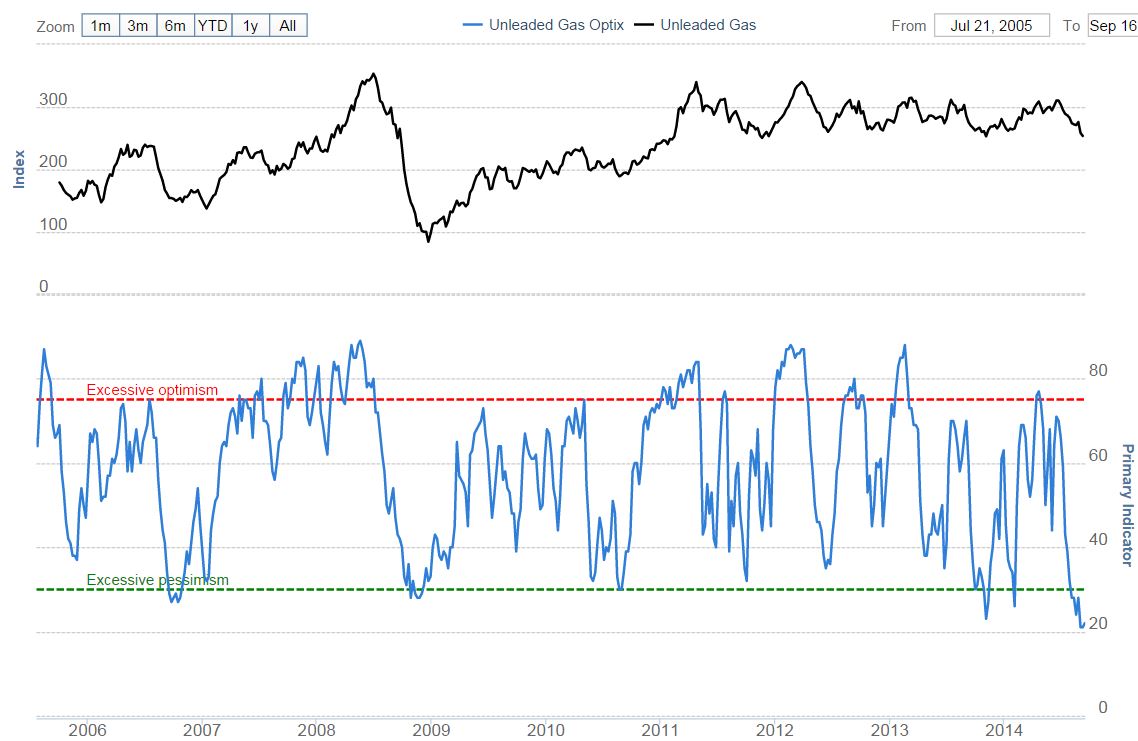 When we see multiple sets of data connect like this it can help make a stronger case for a potential move within a market. We have the price testing support, momentum creating a positive divergence, the time period where gas prices seasonally bottom is approaching, the 'Smart Money' has decreased their net-short positions to a historically low-level, and sentiment has hit a new low. While I allow price to control my bias, it seems we may be setting up for paying more at the pump as gas may be heading higher.
Source:  A Gasoline BOTTOM?!! (McClellan Financial Publications) 
Disclaimer: Do not construe anything written in this post or this blog in its entirety as a recommendation, research, or an offer to buy or sell any securities. Everything in this post is meant for educational and entertainment purposes only. I or my affiliates may hold positions in securities mentioned in the blog. Please see my Disclosure page for full disclaimer. Connect with Andrew on Google+, Twitter, and StockTwits.