When it comes to U.S. equity markets I've been fairly vocal on both the blog and on Twitter about my concern with the price action and 'health' of the trend for 2015. In January I wrote about why it's possible we may not see a gangbusters year for stocks, and so far being more than five months in the Dow is negative and the S&P is basically flat.
We haven't seen this few of individual stocks confirming the last high in the S&P 500 since 2012 and before that was the '07 peak and series of occurrences between 2004 and 2006. While many traders have written off breadth because of the lack of confirmation to prior divergences over the last two years. But this is like a doctor ignoring a patient's symptom just because his past five patients had the same symptom but were deemed to not be sick.
Some traders still hope there's cash 'on the sidelines' and that will be the catalyst to stocks going higher. But as Ned Davis pointed out, there just isn't that much cash left to be soaked up.
But with all that, the chart below is what I keep coming back to. It's a weekly chart of the S&P 500 ($SPX) along with two moving averages and two momentum indicators. We often talk about the previous importance of the 100-day (20-week) Moving Average, which is shown by the red Moving Average on the chart. Along with the 50-week Moving Average (green line) which has 'caught' the prior three dips in stocks since 2012 and helped define the current up trend.
And then we have momentum. The Relative Strength Index (RSI) is still in a bullish range, with the indicator above prior support at 42. However we do have a well-defined negative divergence as price has gone higher while the RSI has been declining. The same can be seen with the MACD, which has been making a series of lower highs since the start of 2014.
So what do I almost always say I'm looking for at the end of most of my posts…Confirmation! The lack of breadth, the lack of cash, the decline in momentum, and the shift into bearish seasonality are all important factors but until price confirms they mean nothing. What do I consider price confirming these host of bearish signs? I would say a good break of the 50-week Moving Average (not just a 1 or 2 point dip below) would likely do it. We aren't there yet so I am not putting my helmet on at this point and hopefully I won't have to. We'll see.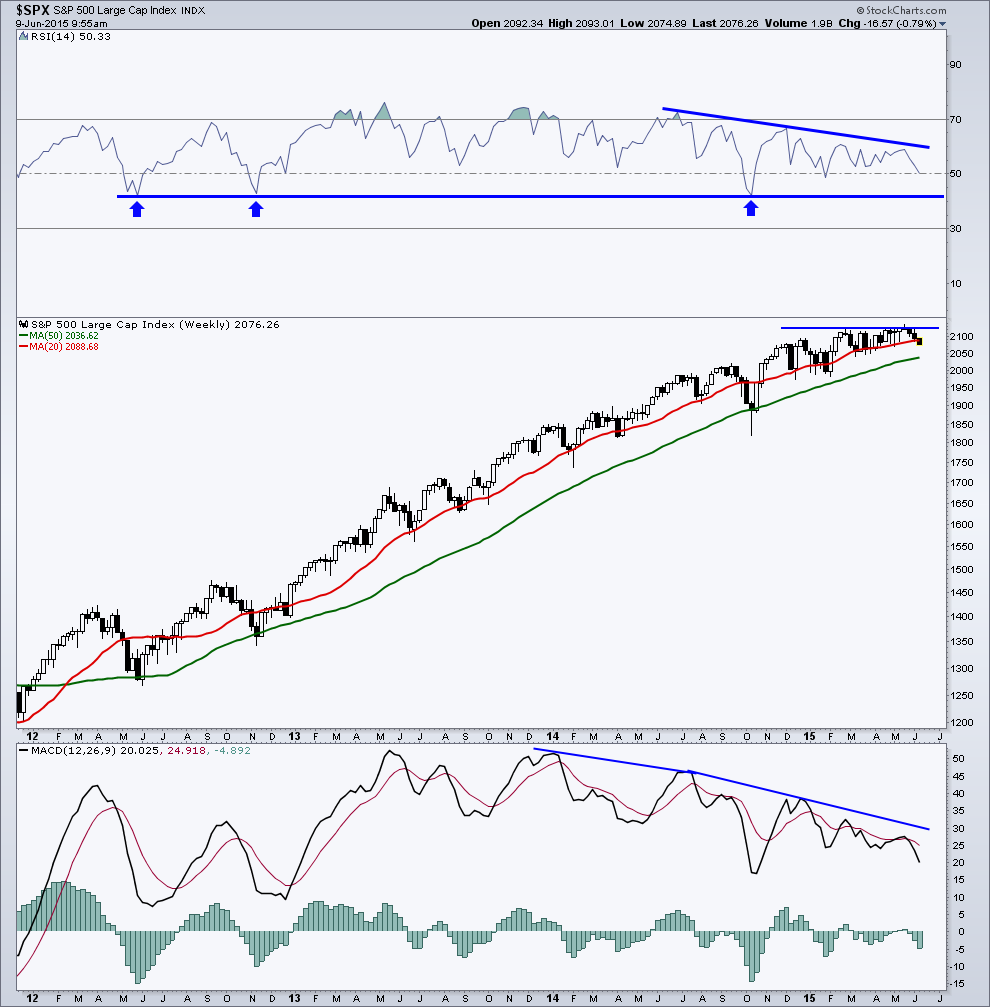 Disclaimer: Do not construe anything written in this post or this blog in its entirety as a recommendation, research, or an offer to buy or sell any securities. Everything in this post is meant for educational and entertainment purposes only. I or my affiliates may hold positions in securities mentioned in the blog. Please see my Disclosure page for full disclaimer. Connect with Andrew on Google+, Twitter, and StockTwits.