While it seems investors can't get enough commentary on the eventual Fed Funds Rate increase, it seems they may already be positioning for Yellen to breath the dreadful word… "tightening."
Josh Brown put up a great table (shown below) prepared by Savita Subramanian's of BoAML showing sector relative performance going into and during the past three rate hikes. While telecom and utilities are often thought of as the worst performing sectors during the periods of time of Fed tightening interest rate policy, Subramanian's research shows another sector that traders may want to keep an eye on – Consumer Discretionary (XLY). Over the last three rate hike cycles, the Discretionary sector shown no relative performance strength, which is actually worse than the Telecom and Utility sectors.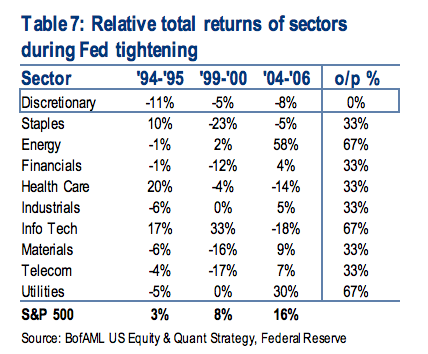 While the Fed has given few if any hints of when  the first rise in their key funds rate will be, the Consumer Discretionary Sector ($XLY) appears traders think it's already started.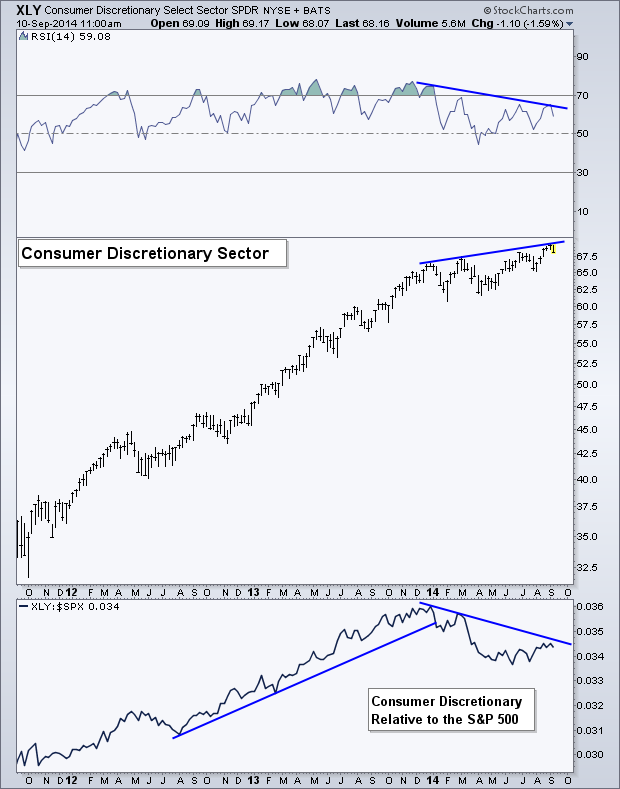 For the bulk of the bull market off the March 2009 low, the relative performance between the Discretionary Sector and the overall market has been in an uptrend. This relationship then changed at the start of 2014 as XLY began to falter relative to the S&P 500. We've also seen a bearish divergence develop on the weekly chart as the Relative Strength Index (RSI) puts in series of lower lows. This weakening of momentum does not bode well the Consumer Discretionary sector and may lead traders to begin applying pressure to prices.
Are traders too early in their positions against the Discretionary Sector or is this just another clue that a rate hike may not be too far in in the distant future?
Source:  Sector Performance During Rate Tightening Cycles (The Reformed Broker)
Disclaimer: Do not construe anything written in this post or this blog in its entirety as a recommendation, research, or an offer to buy or sell any securities. Everything in this post is meant for educational and entertainment purposes only. I or my affiliates may hold positions in securities mentioned in the blog. Please see my Disclosure page for full disclaimer. Connect with Andrew on Google+, Twitter, and StockTwits.