Yesterday we saw equities have their largest bout of weakness for 2013, but it appears a nice size chunk of that has been taken back by the bulls this morning. We'll see if enough buyers step in today to hold the pre-market gains.
Back in early October we took a look at soybean oil as it tested a key support trend line. The commodity ended up holding support and advanced to the level of resistance we are going to take a look at today. Since mid-2008 we have seen a falling trend line on the weekly chart of the Dow Jones-UBS Soybean Oil Index. This resistance came into play in 2011 and again in the early part of last year. We did see, what turned out to be, a false breakout in August before soybean oil continued to slide.
Turned our attention to momentum we can see that the Relative Strength Index over the last year has been unable to get over 60. This is significant because we can get an idea of who is in control of a stock, commodity, ETF, etc. based on where the RSI finds support and resistance. When buyers are unable to get soybean oil over 60, much less over 70 which is the traditional overbought level, then it serves as a potential warning that there isn't enough momentum to drive price higher and that the commodity may be in a strengthening downtrend. We've seen the 60 level tested twice, each occurring when price was hitting the falling trend line. This time we see price at the trend line but momentum is still a few points away from its previous resistance.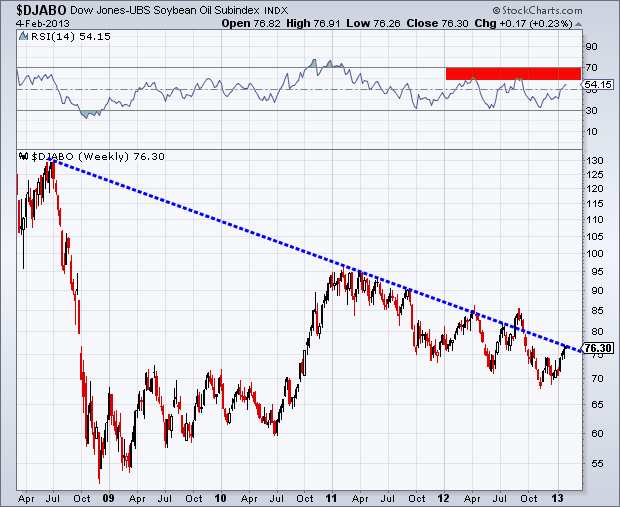 If we do see a break to the upside I'd be keeping my eye on $85 which is the previous short-term peak from the last time we saw a breakout. This is likely to be the line in the sand where bulls would need to dig their feet in if there's a chance for soybean oil to get out of this downtrend.
Disclaimer: Do not construe anything written in this post or this blog in its entirety as a recommendation, research, or an offer to buy or sell any securities. Everything in this post is meant for educational and entertainment purposes only. I or my affiliates may hold positions in securities mentioned in the blog. Please see my Disclosure page for full disclaimer. Connect with Andrew on Google+.