I apologize for the lack of content on the blog or on Twitter.  But I'm now back from vacation and while I had a great time spending last week with my wife's family in New England, it's always nice to be home. 
Even while the bears sound off on the volume last week, we saw the S&P ($SPY) trek higher and make fresh highs.  While volume can be an important tool, we've been seeing decreasing volume for nearly the entire bull market off the 2009 low, which makes it a tough bell to ring to signal the end of the run. As The S&P and Nasdaq continue marching, the Dow Jones Industrial Average ($DIA) remains under its prior high.
Those that follow Dow Theory, while among other things, look for the Transports and Industrials to confirm each other's moves. Yesterday we had the Transports squeak out a new high on both a closing and intraday basis.
It's not very much of a surprise that the Transports are attempting to set a fresh high while the Industrial Average remains a couple dozen points below its own. Since October 2012, the Transports have been outperforming its Dow counterpart.
Now that we've seen $TRAN breakout I'll be watching if $INDU follows, as it has done for the bulk of the bull market. The Dow Industrial Average is close enough to its prior 52-week high that a divergence does not look likely, but we'll let price confirm these expectations.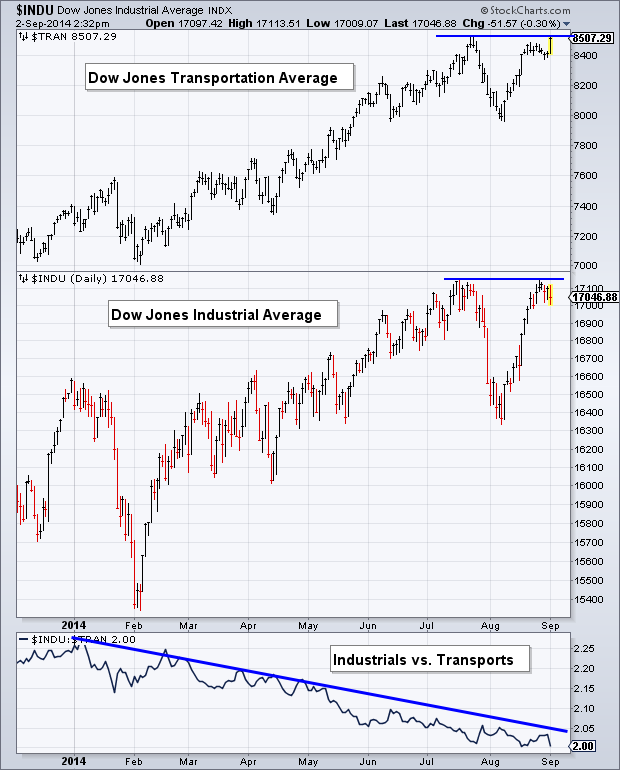 Disclaimer: Do not construe anything written in this post or this blog in its entirety as a recommendation, research, or an offer to buy or sell any securities. Everything in this post is meant for educational and entertainment purposes only. I or my affiliates may hold positions in securities mentioned in the blog. Please see my Disclosure page for full disclaimer. Connect with Andrew on Google+, Twitter, and StockTwits.