Things could hardly be clearer for equity traders. There was a practically unanimous vote for a short-term bottom in mid-November as major indices became oversold. Traders then took us back to the 'golden ratio', the 61.8% Fibonacci retracement from the September high to the November low, which also sits just a few points above the 50-day moving average. We also have the April high to contend with, which is the blue line on the chart below. All of these levels collide at the 1420-1425 area. At the end of November I said that the markets seemed to be trading on the whims of Congress but the 1420 level would still be a healthy place to find resistance.
This is where equity bulls need to set their scopes. It was unlikely that the first attempt to break through these three levels would be successful, and they weren't.  And they very well might not get a second or third chance…..that's not for me to decide.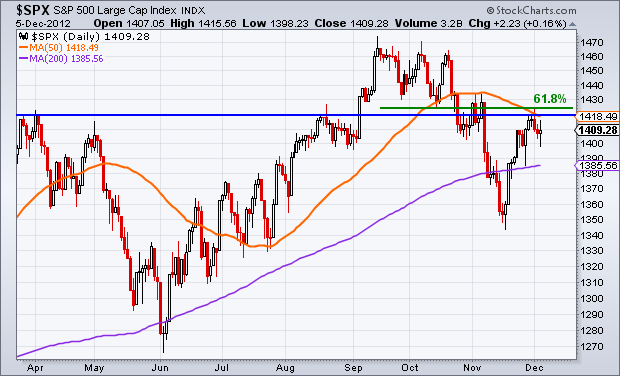 I continue to lean to the possibility we get reintroduced to the November low, and as I've said before, I'd be happy to change my sentiment when price action tells me to. With that, I'll be watching how various market segments perform if we get the opportunity to re-test the 1420-1425 area.
Disclaimer: Do not construe anything written in this post or this blog in its entirety as a recommendation, research, or an offer to buy or sell any securities. Everything in this post is meant for educational and entertainment purposes only. I or my affiliates may hold positions in securities mentioned in the blog. Please see my Disclosure page for full disclaimer. Connect with Andrew on Google+.