While commodities have not been exploding higher this year, they have recently begun to outshine Treasury's. When looking at the larger picture of the market cycle we can compare the three major pockets – stocks, bonds, and commodities. As John Murphy has written in Trading with Intermarket Analysis and Intermarket Analysis, we normally see Treasury prices fall first, followed by equities and then commodities at the end of a business cycle.
While I'm not calling for the end of a business cycle or for bonds to fall flat on their face, there has been a breakdown in the relationship between 10-year Treasury's ($ZN_F) and commodities ($CRB). Below you can see the weekly chart of the ratio between the 10-year and the commodities index. It's been putting in higher lows since mid-2008 as Treasury's outperform their commodity brethren.
We are still above the long-term trend line connecting the 2008 and 2011 lows, however we are breaking the short-term trend line off the 2011 and the recent 2013 lows. The trend in the Relative Strength Index has also been broken as Treasury's momentum against commodities weakens.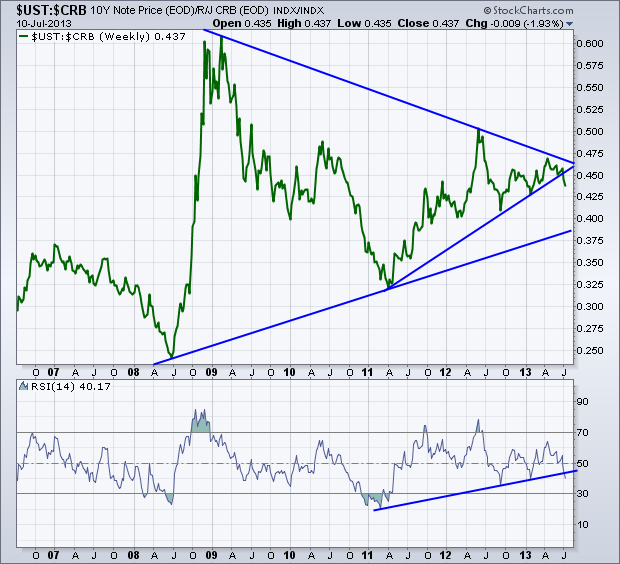 Going forward I'll be watching to see if commodities dig their feet in to continue to outpace bonds and if RSI is unable to regain the 50 level. If we continue to see yields rise and thus prices fall then we could be signaling the first step to the end of the current cycle as mentioned above. However it's still early in the ball game to make that type of assumption but that does appear to be what the charts are starting to hint at – we'll see how it plays out in the coming months.

Disclaimer: Do not construe anything written in this post or this blog in its entirety as a recommendation, research, or an offer to buy or sell any securities. Everything in this post is meant for educational and entertainment purposes only. I or my affiliates may hold positions in securities mentioned in the blog. Please see my Disclosure page for full disclaimer. Connect with Andrew on Google+, Twitter, and StockTwits.