While Scotland votes on Thursday whether to breakaway from England and declare its independence, the price action for the United Kingdom equity market is presenting an interesting setup.
The iShares United Kingdom ETF ($EWU) has not had the best year so far, as it currently sits basically flat for 2014. However, the most recent decline has created a possible double bottom in price. At the same time we can see the Relative Strength Index put in a higher low on the re-test of support in shares of $EWU. This creates a bullish divergence and a sign that price may be preparing to change direction.
On the bottom panel of the chart below we have the On Balance Volume indicator. This tool simply adds and subtracts the number of shares traded each day based on whether price closed up or down. When $EWU re-tested $19.90 the decline that got it there was on much lower volume. This means there might not have been much support to take prices lower with fewer shares being traded on the downside.
As price gets support from both momentum and volume, I'm now watching to see if it can break above its falling trend line, which is currently right around $20.40. While the vote in Scotland will likely have an impact on British equities, it appears the latest moves in price, momentum, and volume are showing a bias to the bulls.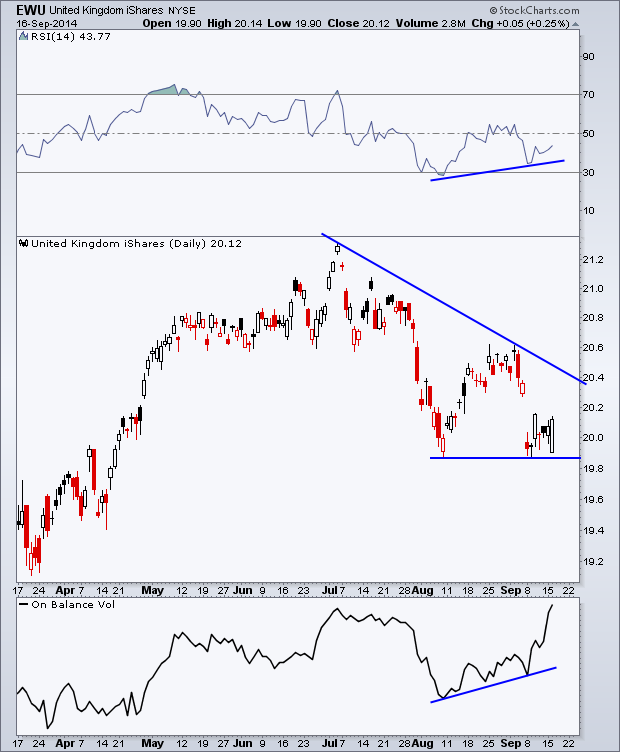 Disclaimer: Do not construe anything written in this post or this blog in its entirety as a recommendation, research, or an offer to buy or sell any securities. Everything in this post is meant for educational and entertainment purposes only. I or my affiliates may hold positions in securities mentioned in the blog. Please see my Disclosure page for full disclaimer. Connect with Andrew on Google+, Twitter, and StockTwits.