Like emerging markets ($EEM) in general, China has had a nice last four months. Below we have a chart of the iShares China ETF ($FXI). For the last four months the relative performance for China compared to the S&P 500 has been fairly strong, albeit recently. However we must dig deeper to determine if China is the strongest chicken in the coup.
Using a top down process I'll determine which is better, domestic or international? Over the last few months it's been international. Next up should we be looking for developed markets or emerging markets? Since Mid-August emerging markets have been the place to be. Now which emerging market? Should we look at China, Brazil, Indonesia, South Africa, etc.? We can perform simple relative performance analysis to see that Brazil ($EWZ) has been one of the strongest emerging markets over the last few months. Meanwhile, China has actually been under performing the iShares Emerging Market ETF ($EEM) as we can see in the bottom panel of the chart. That's a small piece of the process I"ll go through when looking for plays based on global regions. Taking a broad theme and going step by step deeper to see where the strength is coming from. From there I'll use other methods of analysis to determine if the risk/reward is truly there.
Turning the focus to the latest price action within $FXI we can see it's currently testing its rising trend line off the June low. Like all trend line breaks (if we do eventually see a break), I like to see confirmation in order to diminish the opportunity for a false move. With the advance in global equities today, China may see some benefit of hide tide raising all boats and the trend line holds. But I'll continue to keep my eye on this one if we see future weakness in the coming days.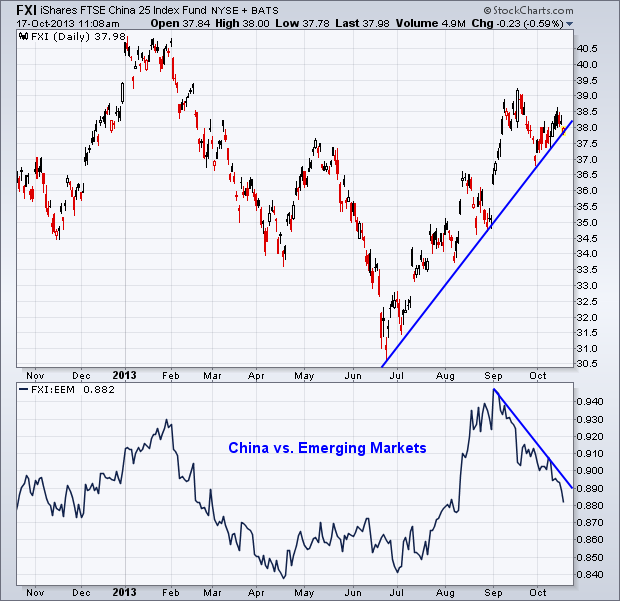 Disclaimer: Do not construe anything written in this post or this blog in its entirety as a recommendation, research, or an offer to buy or sell any securities. Everything in this post is meant for educational and entertainment purposes only. I or my affiliates may hold positions in securities mentioned in the blog. Please see my Disclosure page for full disclaimer. Connect with Andrew on Google+, Twitter, and StockTwits.